Welcome to the HakoMari Wiki
The HakoMari Wiki is a resource for the Utsuro no Hako to Zero no Maria Light Novel series written by Eiji Mikage. It may contain both fact and speculation, so be wary of spoilers and possibly misleading info! To get started, check out the character list!
Warning: this wiki contains spoilers.
Utsuro no Hako to Zero no Maria, or The Empty Box and The Zeroth Maria and shortened to HakoMari, tells the story of Kazuki Hoshino, who is almost madly attached to his everyday life, and his antagonist Aya Otonashi, who suddenly transfers into his class at the end of the school year—for no less than the 13,118th time. Without hesitation, she announces her intent to "break" him. Kazuki's struggle to defend his everyday life begins, and the many secrets it is built on start to come to light. The series is written masterfully by Eiji Mikage and wonderfully illustrated by Tetsuo (aka 415).
The pages contained within this wiki are the intellectual property of Eiji Mikage and are merely built upon fact inherent within the LN series and meaningful speculation and extrapolation of those facts. Harm to the work and its copyright are not intended.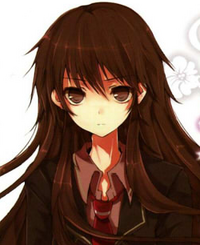 A beautiful but unsociable girl with a resolute personality. She transferred into Kazuki's class on March 2nd — almost at the end of the school year. Right after her arrival she announces her intent to "break" Kazuki.
Community content is available under
CC-BY-SA
unless otherwise noted.